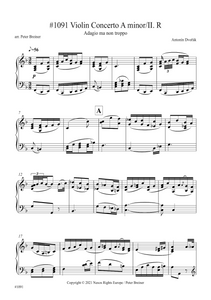 Antonín Dvořák: Adagio ma non troppo, Movt. II of Violin Concerto in A minor (arranged for piano by Peter Breiner) (PB173)
Regular price
$8.00
$0.00
This is a sheet music edition of Adagio ma non troppo from the second movement of the Violin Concerto in A minor Antonín Dvořák.
Op. 53, B. 96
Arranged for piano solo by Peter Breiner
Duration: 00:01:58
2 pages
---
Audio sample
---
Dvořák's music for solo instrument and orchestra has aged well. The Violin Concerto in A minor, Op. 53 has gained popularity in recent decades, which would have satisfied a composer whose work was criticised by celebrated violinist Joseph Joachim.
The thoughtful melody from the work's slow movement contrasts nicely with brighter aspirations in the finale, where the right hand of the piano enjoys Dvořák's rustic writing for violin.
---
Other editions in this catalogue