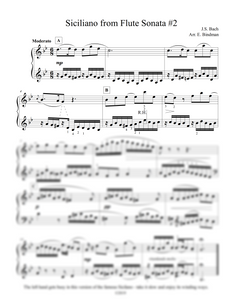 J.S. Bach: Siciliano from Flute Sonata No. 2, BWV 1031 – arranged for piano by Eleonor Bindman (GPC030)
Regular price
$12.00
$0.00
1 page
This is a one-page sheet music edition of an arrangement for piano by Eleonor Bindman.
Taken from the collection "Stepping Stones to Bach"
Johann Sebastian Bach left us an unparalleled legacy. His music has accompanied people through centuries of worship and brought countless moments of reflection, inner peace and wonder. It was even launched into space on the Voyager 1 space probe as one of humanity's supreme achievements. No doubt, at any given moment there is someone somewhere on Earth playing something by Bach.
"Stepping Stones to Bach" is a new way for pianists to connect to the complete works of the great composer. Themes from masterpieces like The Brandenburg Concertos, The Passions, the Cantatas, selected Sonatas, Suites and works for organ have been simplified and adapted to the modern keyboard.
As a result, students of all ages can now participate in music-making of the highest quality without having to spend months to learn one piece. With the essentials left intact and closing cadences added at suitable points, playing each "Stepping Stone" is an accessible and satisfying experience.
These 24 simple piano arrangements are excellent student recital pieces, technique studies, warm-up and sight-reading exercises and building blocks for learning more difficult works.
"The music of my father has higher intentions. It is not supposed to fill the ear but make the heart move." – C.P.E. Bach
---
Other editions in this catalogue