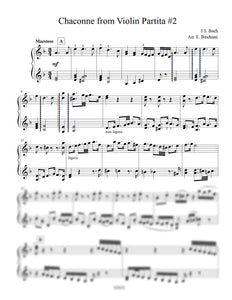 J.S. Bach: Chaconne from Violin Partita #2, BWV 1004 arranged for piano by Eleonor Bindman (GPC057)
Regular price
$12.00
$0.00
2 pages
This is a two-page sheet music edition of an arrangement for piano by Eleonor Bindman.
Taken from the collection "Stepping Stones to Bach book 2"
Johann Sebastian Bach left us an unparalleled legacy. His music has accompanied people through centuries of worship and brought countless moments of reflection, inner peace and wonder. It was even launched into space on the Voyager 1 space probe as one of humanity's supreme achievements. At any given moment there is likely to be someone somewhere on Earth playing something by Bach. So here we have more Bach to play, and why not?
This is Book 2 of "Stepping Stones to Bach," a cycle of 2 volumes, 24 pieces each, in a tribute to the format of The Well-Tempered Clavier. Themes from masterpieces like the Brandenburg Concertos, Mass in B Minor, the Cantatas, selected Sonatas and Suites have been simplified and adapted to the modern keyboard. Piano students of all ages can now participate in musicmaking of the highest quality without having to spend months to learn one piece.
Aside from being sources of pure enjoyment, these simple arrangements are excellent student recital pieces, technique studies, warm-up and sight-reading exercises and building blocks for learning more difficult works. I also created special "Stepping Stones to Bach" playlists on Spotify and ITunes featuring all of the original compositions, to provide a deeper connection to the music. Listening to the playlists will help with choosing suitable tempi.
A few words about fingerings: I indicate some for each piece and hope that you will figure out the rest, following my guidelines. Practicing finding a good fingering is the only way to get better at arriving at comfortable solutions. Keep in mind that fingerings which may seem right at a slow tempo can become nearly impossible at a fast one. Of course, my fingerings aren't written in stone, so feel free to contact me at eleonorbindman.com if they raise any questions. I welcome all inquiries and feedback.
---
Other editions in this catalogue