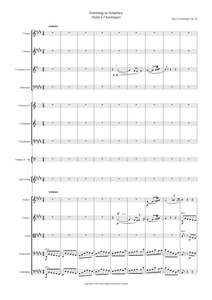 Henry Vieuxtemps: Greeting to America, Op. 56 (version for violin and orchestra) – full score (NXP008)
Regular price
$42.00
$0.00
Sheet music edition. Choose your format from the selection above.
Instrumentation: 2.2.2.2 - 2.2.3.0 - timp. - violin solo - strings
Duration: 00:12:31
Recording: 8.570974
53 pages
Henry Vieuxtemps wrote several occasional pieces for his three American tours. The Souvenir d'Amérique, Op. 17, mostly a reworking of Yankee Doodle, was written for his first American tour in 1842-1843 and published about 1845, and the Bouquet américain, Op. 33, consisting of six pieces, including a piece based on The Arkansas Traveler, was published about 1855.
Greeting to America, Op. 56, was published posthumously in 1883. The lower strings begin a steady pizzicato, gradually joined by the rest of the orchestra. The soloist enters after a full stop with a stately theme; this eventually resolves to a vigorous Star-Spangled Bannersection. A trill from the soloist and flourishes in the brass announce Yankee Doodle, and after vigorous pyrotechnics The Star-Spangled Banner returns in a blaze of glory.
The composer:
Henry Vieuxtemps, son of a weaver and violin-maker, was born in Verviers, near the Belgian city of Liège, on 17th February 1820, and began violin lessons with his father at the age of four. His talent was immediately evident, and with the support of a local aristocrat he was able to study with a professional violinist, Lecloux-Dejonc.
Charles de Bériot, a leading violin virtuoso of the time, heard him play in 1828 and invited him to study in Brussels. When Bériot travelled to Paris in 1828-1829 Vieuxtemps accompanied him, making his Paris début in February 1829. During an 1830 tour of Germany and Austria, he met the violinist/composer Louis Spohr and heard Beethoven's Fidelio – both seminal experiences for the young musician.
In March 1834 he played Beethoven's Violin Concerto at the Vienna Musikverein, only the second time the concerto had been performed publicly since Beethoven's death. After hearing the fourteen-yearold violinist, Schumann wrote in the Neue Zeitschrift für Musik that Vieuxtemps "holds us in a kind of magic circle that encloses us …".
In 1834 Vieuxtemps heard Nicolò Paganini play in London and wrote that his "admiration increased to the borders of the improbable", and no doubt the tremendous technique in Vieuxtemps' work is partly due to the influence of Paganini. Briefly a composition student of Anton Reicha, Vieuxtemps composed the first of his seven violin concertos, the Concerto in F sharp minor, published as No. 2, in 1834.
After touring Belgium and Germany in 1836-1837, he extended his tour to Russia in the spring of 1837, performing often in St Petersburg. He returned to Russia in 1839 with his fellow-countryman, the cellist François Servais. In Russia he completed his Concerto in E major (No. 1), which was much praised by Wagner, Chopin and Berlioz.
In the winter of 1842-1843 Vieuxtemps made his first tour of the United States, and while in America composed Souvenir d'Amérique, Op. 17. In 1844 he married the Viennese pianist Josephine Eder, and two years later accepted the post of court violinist in St Petersburg. Though bound to the Russian court by a six-year contract, he was allowed to give concerts elsewhere during his annual holiday and continued to travel across Europe during this Russian period.
While in Russia, he gave the première of one of his best-known concertos, the Concerto No. 4 in D minor, and formed a string quartet that performed, among other works, Beethoven's last quartets. Leaving Russia in 1852, Vieuxtemps first settled in Brussels for two years before moving to Dreieichenhain, a town near Frankfurt-am-Main, and this remained his home base for over a decade. During his second (1857) American tour, he performed 75 times in less than three months – a grueling schedule Vieuxtemps later called a "crime against music".
Nevertheless he kept up a rigorous concert schedule, performing often in Paris, London, Russia (again), Stockholm and numerous other places. Because of an increasingly difficult political situation, he left his home near Frankfurt in 1866 and settled in Paris. His wife died of cholera in 1868, but he hardly paused in his intense concert schedule.
He embarked on his third tour of the United States in 1870, influenced into accepting another tour of the United States in part by the outbreak of the Franco-Prussian War. During this American tour he played 121 concerts in half a year.
In 1871, after having twice before refused formal teaching positions, he finally accepted a post at the Brussels Conservatoire. His most famous pupils were Eugène Ysaÿe and Jenö Hubay. In September 1873, while in France for a charity concert to help casualties of the Franco-Prussian War, he suffered a stroke and lost the use of his right arm. He went to live in Paris with his daughter and son-in-law, gradually returning to composing and even playing (though not publicly).
After an abortive attempt to return to his classes at the Conservatoire, he moved to Mustapha Supérieur in Algeria, where the violinist Wilma Normand-Neruda (the dedicatee of his Sixth Concerto) and his old student Hubay visited him. He remained an active composer almost to the day of his death. In June 1881 he suffered his fourth stroke and died on 6th June 1881.
Bruce R. Schueneman
---
Audio Sample
---
Other editions in this catalogue