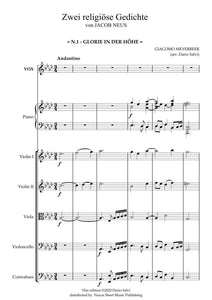 Meyerbeer: Zwei Religiöse Gedichte - arranged by Dario Salvi (NXP049)
Regular price
$26.00
$0.00
Sheet music edition. Choose your format from the selection above.
Duration: 4 minutes
Instrumentation: Voice - Piano - Strings
Arranged by Dario Salvi
For the whole of his life Meyerbeer was socially active and supported both Jewish and Christian organisations even after his death. In 1841, at the request of the Schott publishing house, Meyerbeer set to music Zwei Religiöse Gedichte ('Two Religious Poems'), which were intended for the religious services of the Central Commission for the Poor. The original compositions are set for organ, two sopranos and alto. The texts of both poems (Meyerbeer named them hymns) are from Jakob Neus, one of the leaders of the Catholic social welfare organisation based in Mainz.
Audio Sample
---
---
Other editions in this catalogue