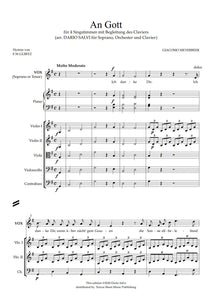 Meyerbeer: An Gott - arranged by Dario Salvi (NXP048)
Regular price
$19.00
$0.00
Sheet music edition. Choose your format from the selection above.
Duration: 5 minutes
Instrumentation: Voice - Piano - Strings
Arranged by Dario Salvi
Hymne An Gott ('Hymn to God'), was composed in 1813 for four solo voices (SATB) with piano accompaniment. One of the guests in the salon of his mother Amalie Beer was the poet and professor of woodcut art, Friedrich Wilhelm Gubitz. Amalie Beer encouraged him to write the text of this hymn, but Meyerbeer did not find the naive, childish tone of the poem very inspirational and, as he wrote in a letter to Wolfssohn, 'I had to work with the sweat of my brow on this sterile piece of poetry.' But the piece is unusual: first comes a melody for the four voices which incorporates many variations in an almost Mozartian manner, then follows a middle section with chromatic changes and complex harmonies. The closing Allegro seems liberated and is distinguished by passages comprising imitations and virtuoso coloratura. This composition had not been published again and was first performed in June 2017 in Berlin by Andrea Chudak, exactly two hundred years later. The score used for the performance is based on a printed version of 1817.
Audio Sample
---
---
Other editions in this catalogue