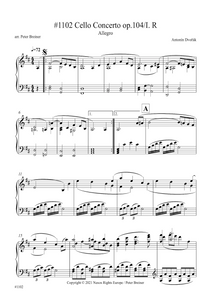 Antonín Dvořák: Allegro, Movt. I from Cello Concerto in B minor (arranged for piano by Peter Breiner) (PB176)
Regular price
$8.00
$0.00
This is a sheet music edition of the Allegro from the first movement of the Cello Concerto in B minor by Antonín Dvořák.
Op. 104, B. 191
Arranged for piano solo by Peter Breiner
Duration: 00:02:49
3 pages
---
Audio sample
---
Dvořák had a special affinity with the cello, with the Cello Concerto of 1895 a concert hall favourite. Its soulful melodies have long been treasured, few more than the second theme of the first movement.
---
Other editions in this catalogue