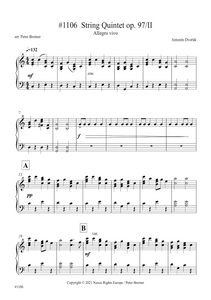 Antonín Dvořák: Allegro vivo, Movt. II of String Quintet in E-flat major (arranged for piano by Peter Breiner) (PB179)
Regular price
$8.00
$0.00
This is a sheet music edition of Allegro vivo, the second movement of the String Quintet in E-flat major by Antonín Dvořák.
Op. 97, B. 180
Arranged for piano solo by Peter Breiner
Duration: 00:01:40
2 pages
---
Audio sample
---
Dvořák moved from New York to a Czech settlement in Spillville, Iowa, in 1893.
In an especially productive month, he wrote the String Quartet in F major, Op. 96 (the 'American') and a second String Quintet in E flat major, Op. 97.
While working on the latter piece a group of Native Americans visited, and Dvořák was inspired by the pentatonic melodies used in their tribal dances.
The slow movement of the quartet is notable for its soulful cello solo, while the quintet has a deceptively catchy tune in its scherzo. The third movement Larghetto, meanwhile, provokes deeper thoughts.
---
Other editions in this catalogue