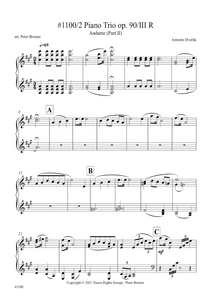 Antonín Dvořák: Andante, Movt. III Part 2 from Piano Trio No. 4 in E minor (Dumky) (arranged for piano by Peter Breiner) (PB162)
Regular price
$8.00
$0.00
This is a sheet music edition of the Andante Part 2 from the third movement of the Piano Trio No. 4 in E minor (Dumky) by Antonín Dvořák.
Op. 90, B. 166
Arranged for piano solo by Peter Breiner

Duration: 00:01:55
2 pages
---
Audio sample
---
Dvořák's interest in writing music more reflective of his Czech origins culminated in the composition of a piano trio known as the 'Dumky'.
This four-movement work broke with tradition by using a dumka for each movement, an approach which proved popular on its Prague premiere in April 1891.
The four excerpts from this work capture the longing stillness of the Poco adagio second movement, then the richly ornamented melody and contemplative mood of the third movement Andante.
From the finale Breiner extracts a darker melody of more obviously Slavonic character.
---
Other editions in this catalogue