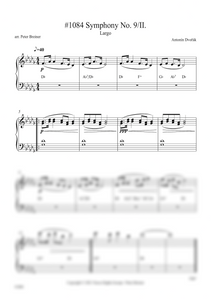 Antonín Dvořák: Largo, Movt. II of Symphony No. 9 in E minor (From the New World) (arranged for piano by Peter Breiner) (PB171)
Regular price
$8.00
$0.00
This is a sheet music edition of the Largo from the second movement of Symphony No. 9 (From the New World) by Antonín Dvořák.
Op. 95, B. 178
Arranged for piano solo by Peter Breiner
Duration: 00:03:15
1 pages
---
Audio sample
---
Dvořák left his homeland for America in 1892, at the invitation of the National Conservatory of Music in New York.
He stayed for the best part of three years, completing a number of works that met with widespread approval. These included the last of his nine symphonies, the 'New World', a cosmopolitan work combining original invention with real or appropriated quotes from African American and Native American songs.
Simultaneously a postcard to his homeland and a celebration of new surroundings, it is characterised by melodies using the pentatonic scale.
The symphony is packed with memorable content. Even its Adagio introduction, which would be functional in many hands, has a distinctive tune. However, the most memorable melody is reserved for the second movement Largo, a tender cor anglais utterance embodying longing and nostalgia. By contrast the fourth movement is a bracing finale.
---
Other editions in this catalogue