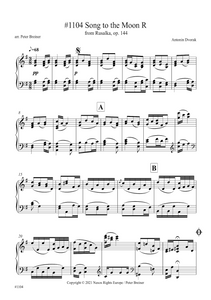 Antonín Dvořák: Měsíčku na nebi hlubokém (Song to the Moon) from Rusalka (arranged for piano by Peter Breiner) (PB182)
Regular price
$8.00
$0.00
This is a sheet music edition of Měsíčku na nebi hlubokém (Song to the Moon) from Rusalka by Antonín Dvořák.
Op. 114, B. 203
Arranged for piano solo by Peter Breiner
Duration: 00:03:37
2 pages
---
Audio sample
---
Dvořák's ten operas are little known, apart from the enduring tale of Rusalka.
The opera tells the story of the water nymph Rusalka, who falls in love with a prince who comes to swim in her lake. Entranced, she wishes to become a human, and calls on the moon to tell the prince of her love.
She does this in the famous Song to the Moon, Dvořák's most prized operatic aria.
---
Other editions in this catalogue