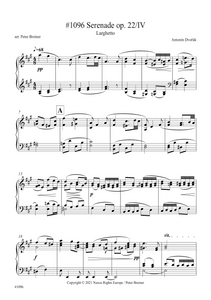 Antonín Dvořák: Serenade in E major, IV. Larghetto (arranged for piano by Peter Breiner) (PB157)
Regular price
$8.00
$0.00
This is a sheet music edition of the Larghetto from Serenade in E major by Antonín Dvořák.
Op. 22, B. 52
Arranged for piano solo by Peter Breiner
Duration: 00:02:17
2 pages
---
Audio sample
---
The Serenade in E major, Op. 22 for strings of 1875 has an airy first theme first heard in the piano's right hand (violins), immediately echoed in the left (cellos).
The second movement waltz dances freely, its nostalgic tones afforded a Chopin- like grace in the piano reduction.
The wistful Larghetto, fourth of the five movements, has a graceful theme allowing time for reflection.
---
Other editions in this catalogue