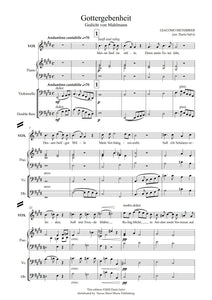 Meyerbeer: Gottergebenheit - arranged by Dario Salvi (NXP046)
Regular price
$14.00
$0.00
Sheet music edition. Choose your format from the selection above.
Duration: 6 minutes
Instrumentation: Voice - Cello - Double Bass - Piano
Arranged by Dario Salvi
During his lifetime Meyerbeer composed many songs and romances based on religious texts. In 1841, while in Alexisbad in the Harz Mountains, he set Siegfried August
Mahlmann's poem Gottergebenheit ('The Divine Condition') in strophic form to a simple melody.
Audio Sample
---
---
Other editions in this catalogue